The Challenge:
Design a strategic out-of-box experience vision for all products in the Bose consumer portfolio, making it scalable from headphones to speakers to home theater systems, and inclusive of all aspects of a good oobe: packaging structure and materials, packaging graphics and copy, user documentation, unboxing, setup, and related mobile app experiences.
Knowing the Enemy:
A good unified out-of-box experience incorporates the package design, its graphics, user onboarding--the whole kit-and-kaboodle. From moment one, the Bose OoBE has a problem:

Through research and relationship-building, I found ample opportunities to grow on: Historically, boxes have been engineered more than designed, with cost-cutting the primary mission immediately after product protection. Box graphics have been designed in a silo on one end of the company, and documentation and UX on another. Setup experiences and in-box documentation have felt, according to user studies, long, complex, and confusing to users. All in all, we needed a unified out-of-box experience that reflects the core of the Bose brand: passionate obsession with details and a focus on astonishing and elevating the customer.
Early Days:
When I became head of the new out-of-box experience team, Bose was also in the midst of rolling out a new brand expression system, and processing multiple structural reorgs around the company. As a result, at the same time I was assembling a new long-term vision, I was also:
directing the evolution and rollout of a packaging graphics system,
clienting all package graphics and copy in the 2016-2017 portfolio years,
directing and collaborating on package industrial design and materials choices with our packaging engineering and product ID teams,
managing our user documentation team and its own adoption of the new brand system, and
connecting dots between all of the above and our interaction design leads on setup and unboxing.
It was a busy time, but a critical opportunity. Attacking this challenge successfully meant first building relationships with people in all the relevant sub-functions, and constructing a complete understanding of the
real
out-of-box flow--for the customer, and the company.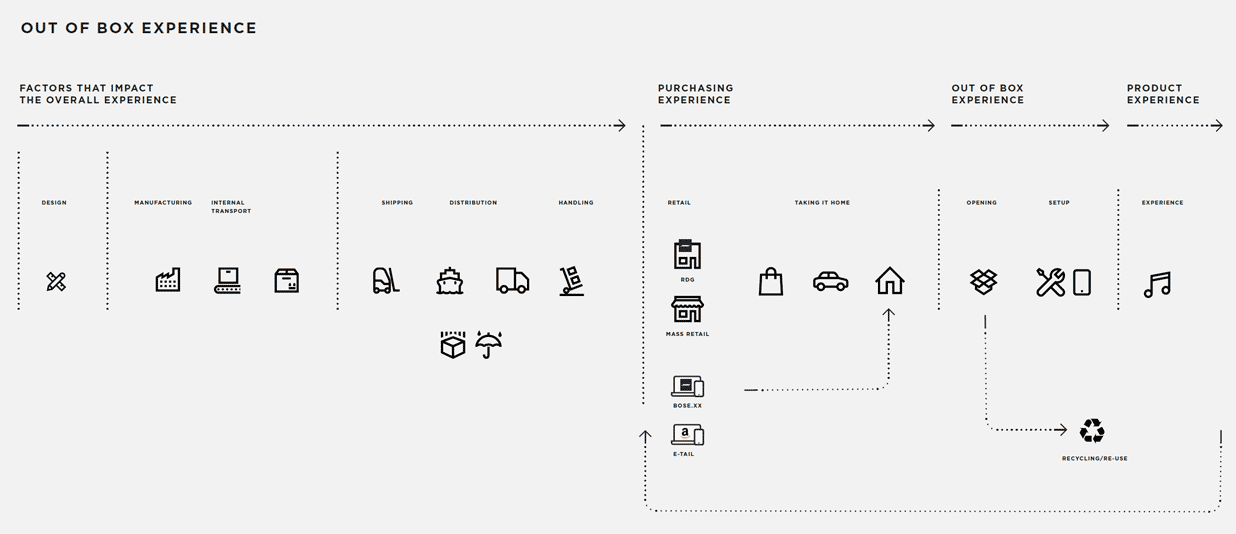 The Customer Journey:
I partnered with our Consumer Market Insights group to benefit from research they were doing into our customers' shopping journey. Research reports and journey maps showed that the purpose of the package had changed significantly from what many of our in-company colleagues still believed; the primary purpose of the box and its graphics is no longer to be a billboard and customer education tool at retail. Our customers are hitting multiple touchpoints on their road to purchase, and when they do encounter the product-in-box at retail, its graphics serve primarily as wayfinding tools ("Do they have the Bose product I was looking for?") and confidence builders ("This is the brand for me"). I worked then with our Chief Brand Officer and the Creative Director in charge of Retail to create a guideline document for the purpose of packaging artwork.

Packaging Graphics:
The Chief Brand Officer mandated that our new brand expression system should begin appearing on packages effective immediately. This didn't give me and the packaging artwork staff a great deal of time to develop a set of standards--we needed to craft our new standards real time, while designing new product packages for delivery into production. I enlisted the aid of a Lean process expert and we assembled and analyzed all of the component subprocesses of our oobe teams, included packaging graphics. We identified opportunities for improvement and agility, and I directed the graphics team to begin early stage concepting of new designs in advance of the traditional kick-off dates. We were able to do some limited rounds of portfolio- level concepting and rapid visualization this way, and created a first generation of newly-branded boxes that were consistent with the brand standards and each other.

While my team was developing the first generation of new box designs, the company's brand team was also at work, evolving elaborations to the expression system. We were tasked with folding this into our new standards, and took this opportunity to explore improvements over the first generation. I oversaw the development of this "1.5" generation, which brought us closer to our vision of elegance-through-simplicity and product-as-hero.

Digital Onboarding:
As of the 2016 and 2017 portfolio years, all of our products were Internet connected and digitally-enabled, either via Bluetooth to a mobile device, or via WiFi. With rapidly growing mobile app strategies tied into the entire product line-up, there was an opportunity to further integrate our digital and physical experiences, better meet our users' expectations, and leverage new tools to delight them. My user documentation team undertook an initiative to minimize in-box printed documentation, and worked directly with our interaction design colleagues to build new in-app workflows for setup and user onboarding. This brings the product experience closer both to Bose's forward-looking business strategy and our users' expectations for what an integrated music experience means.
Many of the efforts for integrated oobe and digital onboarding did not start hitting the market until later in 2017, but one of our first efforts--the Lifestyle 650 and 600 Home Theater Systems--gave us an early opportunity to measure our efforts. In this pair of products, we recognized the complexity of a DIY home theater installation, and I led the design of an experience that integrates package labeling, printed documentation, and an on-screen walk-through to provide users with a simple and clearly guided setup process. The product, including its setup experience and oobe design, received a Red Dot Best of the Best award in early 2017.


The Bento Vision:
I began work on our future oobe strategic vision by examining the brand and our customers. It was evident to me early on that our brand values of:
respect for the customer,
passion for performance and
careful attention to detail
mirrored another set of values with which I was familiar: cultural and design trends in Japan. I investigated design trends in packaging and art, as well as cultural practices and their underpinnings, to identify the core values that drive them. We were not about to start packaging speakers in bamboo and rice paper, but I shared the belief with our Chief Brand Officer, senior stakeholder on the project, that if we could identify the mindset behind these norms, we could apply that way of thinking to our oobe. Through this work, codenamed Bento after carefully arranged Japanese lunch boxes, I illuminated the critical values of respect and gratitude, not just for the customer, but for the products and the packaging materials themselves used. My analysis boiled the origin down to a simple truth:
Demonstrate
honest respect
, and treat our interactions with our customers as a
relationship
, not a series of transactions, and we will earn their
trust
.
Trust and respect would become the heart of the Bose out-of-box experience.

Principles:
I worked with the Chief Brand Officer to assemble a core team of graphic and industrial designers who would carry our oobe vision forward. Based on the vision I'd identified, I built a project plan to begin hammering this vision into an actionable north star for the design staff. I recognized that the process itself would have to reflect the values behind the vision, and so I arranged for the first phase of the work (which I called the apprenticeship) to mimic the iterative learning-and-practice cycles of a craftsperson's apprenticeship. I partnered with our User Research and Customer Market Insights groups to synthesize existing knowledge about our customers' oobe preferences and pain points, and shared this knowledge with our Bento team. I used my contacts in Japan to find and build a relationship with a partner firm, Ken Okuyama Design, an award-winning industrial design agency in Tokyo. I coordinated a "design immersion," where we took our core team through a curated exploration of culture, craft, and craftspeople in Japan.

The team members described the experience in Japan as "life-changing," which was gratifying, and the evidence was clear in the work. Through the immersion and a related series of workshop sessions, we built out three key principles to guide all oobe decision-making:

Respect
- Express respect and gratitude to our customers for the relationship they have entered into with us. Make authentic choices with our materials and apply our designs with a craftsperson's careful attention to detail.
Balance
- Apply purposeful absence in visual, physical, and experience design. Highlight what is most important to our customer, and build in intervals in space and time around them. Thoughtful design is subtractive. A whisper can be an invitation to lean in.
Hand of the Master
- The master craftsperson does not need to shout; quiet confidence and passionate attention to detail should be the voice of the brand. Show our hand in our craft so that our customers feel the human connection even in a "cold" consumer electronics purchase; that we're employing our expertise in service to them.
Concepts - Evolution in Action:
With our principles in place, and our vision hammered into a north star, I helped expand the core team to include additional functional experts in industrial design, interaction design, and user documentation. As I wrapped up my time at Bose, this team began developing core design concepts that would become the skeleton of a new design language. Bose began releasing products with the new oobe strategy in 2018.
:: Top ::