The Challenge:
Craft a satisfyingly mobile device-like interaction and visual design platform for a suite of touchscreen digital cameras and implement it across products with a variety of technical capabilities, including the premium series
Kodak Slice
, with a built-in photo album feature for thousands of images.
Kodak Katie:
Our Market Research and Design Strategy teams developed a set of user personas which I analyzed to form a core understanding of our touchscreen camera user base. The principal persona was Kodak Katie, a mid-30s style-conscious mother who was the "chief memory officer" for her family--capturing, organizing, and using the photos of her family's important memories. Her busy lifestyle and attitude lead her to prefer efficiency and simplicity, but she won't compromise on quality. Secondary users were Katherine, an active retiree who places high value in photographs of important people and events, and Kat, a teenage user who is an avid mobile photographer and selfie-taker who epitomizes the change of photographs from rare artifacts to playful commodities.

Black Fade Emotive:
Prior to this project, I had co-led our design team to build out and implement a new portfolio-wide design language. Code-named Black Fade, the language governed the interaction design, architecture, and visual design of our digital still and video cameras, digital picture frames, and TV interfaces. Our colleagues in Product Planning came to us and our Design Strategy team with a challenge: Evolve Black Fade to to make it more "emotive." Left to us to figure out what this meant, I and my fellow designers analyzed the current UIs. Black Fade had been designed, in part, to elevate the user's content--their images, and the new images they're framing up to capture--and minimize the impact of the UI itself. Technical limitations had watered down some of the promise of this, so we identified a few key opportunities in our interaction and visual design methods that could further elevate and amplify that emotional connection inherent in the user's photographs and videos. My work helped strike balance through subdued and clien visual design, including translucent gradients and simplified iconography. In addition, together with my Human Factors co-leads, we streamlined menus and improved access to image review modes.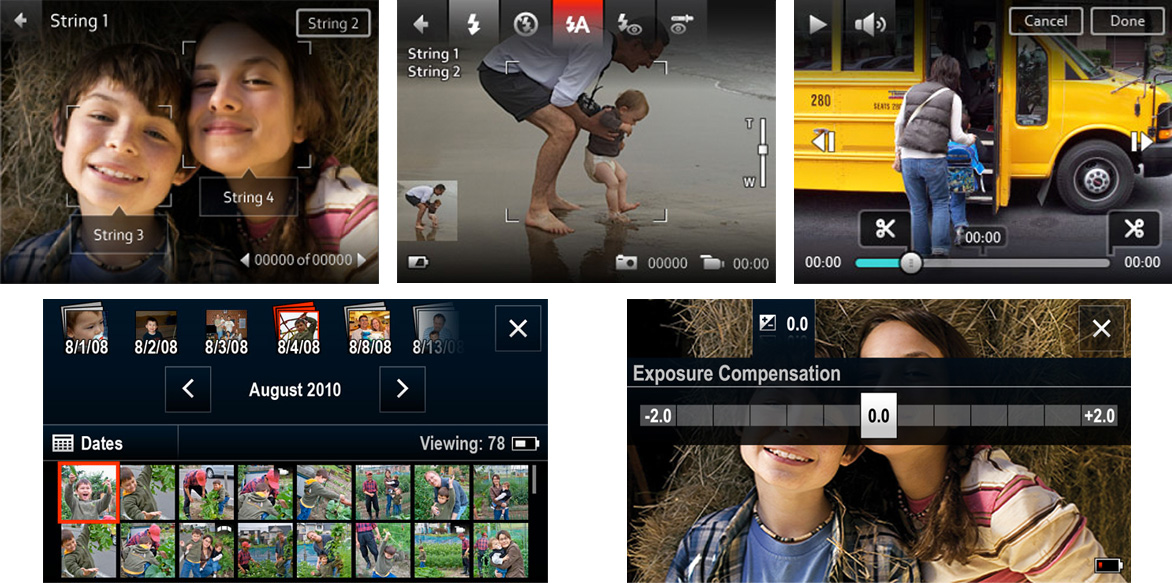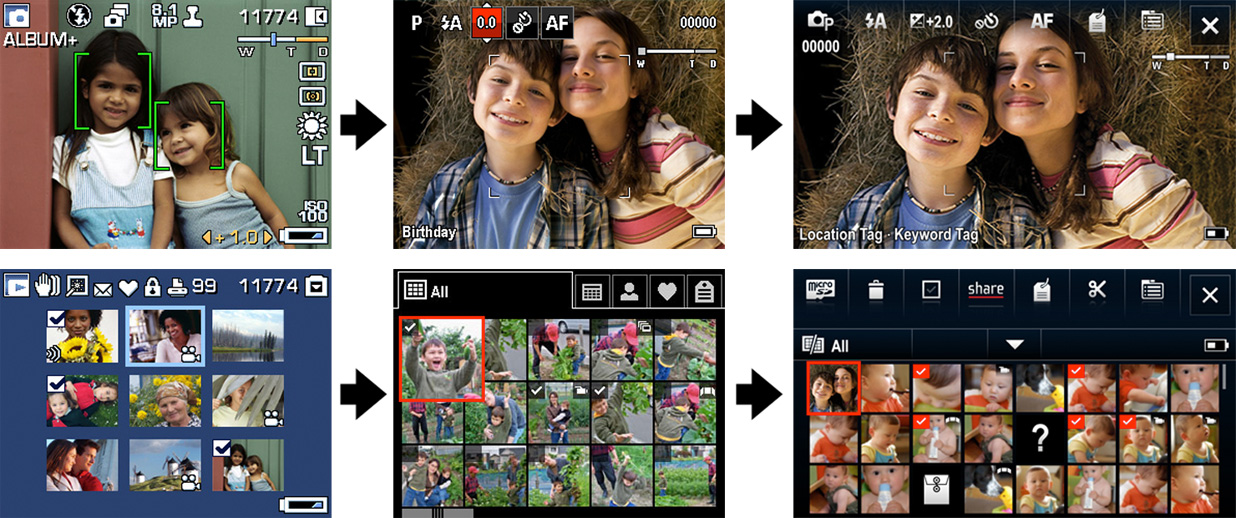 Touch Technologies:
Kodak had created only a very few touchscreen camera devices before, and it was clear that none of the prior approaches--using resistive and infrared technologies--would satisfy the current user base, who had rapidly adopted the iPhone and iPad as the gold standard for good touch experiences. In order to give our products the best chance of success, I partnered with key engineers in both our Rochester and Japan offices and studied the various technology options. We investigated the hardware our suppliers could provide and I presented our recommendations to the product planning team, who ultimately accepted them, striking a healthy balance between cost and capability. Through these efforts, I became the UX team's subject matter expert on touchscreen UIs and technologies. Part of this process included developing a metric for quality touch experiences. Given that Kodak did not have a wealth of experience in the area, I sought out and engaged a UX consultancy that had done touchscreen work for a variety of well-known brands, including Samsung and HP. Through workshops and consultation, we built a set of key heuristics and an evaluation model that would allow us to compare the user perception of quality across Kodak and competitive experiences, and could be leveraged both in direct user testing and internal expert evaluations. This model was used by me and our design team on every touch device we designed, and was part of what allowed us to find our balance between quality and cost.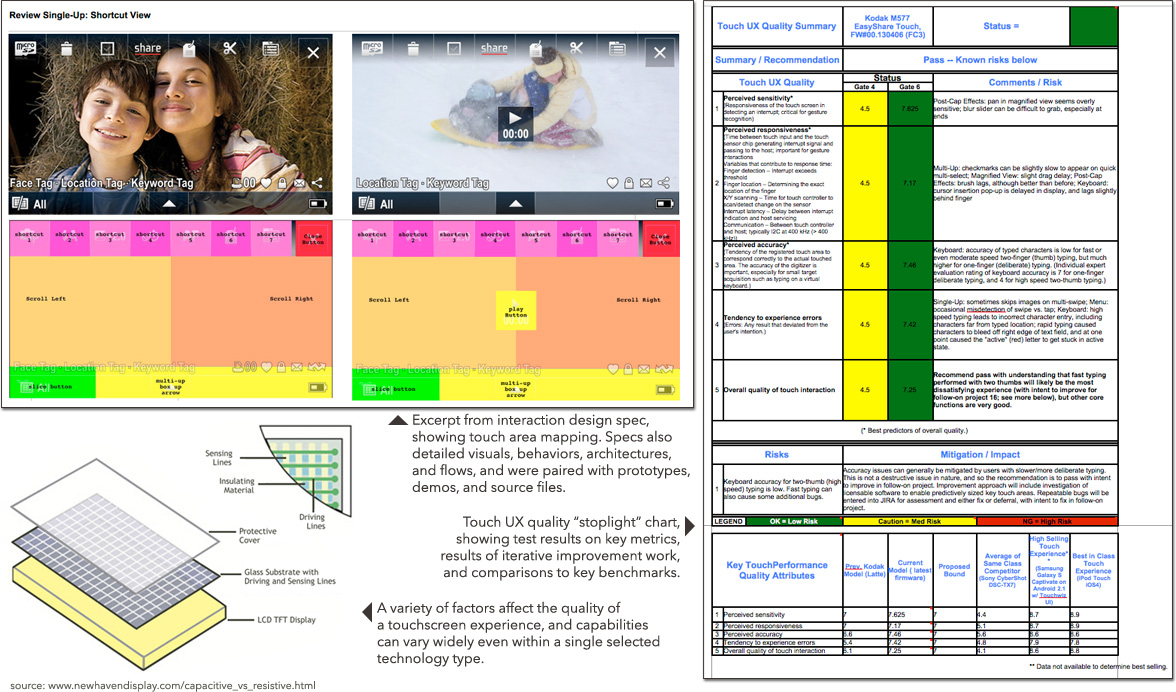 Slice Innovations:
The flagship of the touch camera line was the
Kodak Slice, a high-style, premium-quality device intended to be more than a camera, but to also be a companion for sharing and reliving memories. It was to have a screen that rivaled smartphones in size and quality, a solid metal body in a selection of fashion colors, and an ultra-slim design. It would also contain an uncharacteristically large internal memory and the ability to automatically store a copy of every image captured within it--a feature that was called the Slice Album. Navigating thousands of images in the Slice Album on a hand-held device screen would be a key challenge. Piggybacking on the concept of natural gestural interactions, I proposed the idea of a variable-speed "fast scroll" feature. Mimicking the action of fanning a stack of photos with your thumb, pressing and holding on the screen would begin a similar rapid flip-through of images, which could be naturally accelerated or decelerated by moving the finger toward the edge or back toward the center.


I also re-envisioned the traditional "multi-up" view of image thumbnails as a sliding drawer, so that users could take advantage of the large screen and narrow in on a desired image (recognizing many users take shots in rapid succession, ending up with multiple slightly different pictures--and just one perfect shot). On top of that, I worked with my Human Factors co-lead to design a set of review modes, interactions, and visual filters that would allow users to rapidly find the images they might want to see. Double-tapping a face in a photo, for example, would bring up other photos with the same person, and a quick filter drop-down allowed access to other modes like Date, which gave simple visual cues to indicate the gross number of pictures taken on a given day.


Multiple innovations I helped build received patent filings. The fast scroll feature received its patent award in 2012, and face-based searching, leveraged as part of the multi-variant feature, was awarded in 2010. In addition, the Slice camera was recognized at the 2010 Consumer Electronics Show with its CES Innovations award. Most gratifying, though, is the user response. Slice and its sibling cameras received high star ratings on sites like Amazon. Customers there have made comments like these:
"I find most cameras' controls frustrating: It's never immediately obvious how to do simple things like turn off the flash, adjust scene settings, etc. . . . I really like the Slice's touchscreen: it does almost everything except take the picture and zoom in/out. It's nicely responsive: not as good as the screens on more expensive smartphones like iPhones or the better Droids, but nevertheless does the job well. It's size is wonderful for previewing pictures you just took, and the layout of the menus and controls are obvious for the most part."
"Additionally, the display is NOT cluttered with a bunch of controls. Some cameras have very few controls on the outside, but when the screen is turned-on, they have controls all around the display. That is not only very confusing, but it takes away from the display itself by making the viewing area smaller----some cameras crop the picture and put the controls around it, while others display the controls on top of the picture----either way, it doesn't work for me.
With the Kodak Slice, the controls display momentarily when I turn-on the camera, and after that, they disappear. If I want to see the controls again, all I have to do is tap the top part of the screen. And there is a big X in the upper left corner (like windows on your PC) that you can tap to close the menu. And the menu is only along the top of the screen. Very nice. So, when my parent turns-on the camera, they see a big screen with the picture on it, and nothing else!"
In the following two years, I oversaw the implementation of our touch UI design standards across our line of Easyshare Touch still cameras and the Playtouch video camera, sharing the learnings and developments across the team.


:: Top ::